Bel'lie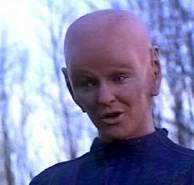 The only Taelon that does not agree with decision of Synod in regards to Humanity.


and are copyright 2001, Tribune Entertainment Co.
However, some of the photos are taken by
Anna
with the use of Video Cutter Software and
Stella Gorman
. All rights reserved.
Text, graphics & background were designed by the Unification Movement © 2001, All rights reserved.
For any suggestions, comments, complaints, or request please contact
Mi'raa
.