Richard Chevolleau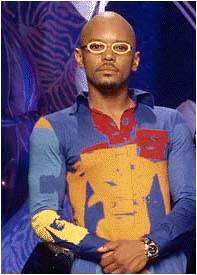 A.k.a.
Augur
He is an eccentric computer genius.
Officially he does not exist. He has a lair underground, which he designed to prevent any Taelon technology could trace.
So, if you want to hack a Taelon computer? He's your guy. But for a price.


and are copyright 2001, Tribune Entertainment Co.
However, some of the photos are taken by
Anna
with the use of Video Cutter Software and
Stella Gorman
. All rights reserved.
Text & background were designed by the Unification Movement © 2001, All rights reserved.
For any suggestions, comments, complaints, or request please contact
Mi'raa
.