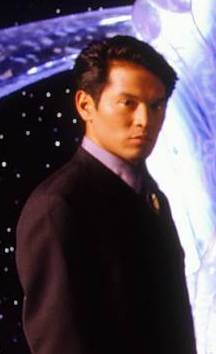 Von Flores plays brilliant and ruthless FBI Special Agent Ronald Sandoval, liaison and bodyguard to Zo'or, in Gene Roddenberry's Earth: Final Conflict.
Flores, who lives in Toronto, was bitten by the acting bug in the Philippines where he was born and raised. He grew up in a very musical family and started playing the trumpet at the age of seven. As a college student in Canada, Flores was "floundering in chemistry at the University of Toronto and playing the trumpet in the orchestra" when his girlfriend, now his wife, encouraged him to pursue his creative talents. Deciding to take the plunge, he left the University, became successful working in real estate and studied acting at night. When a fellow Filipino at acting class told him about an audition for Night Heat, he went along to the audition and landed a guest role that began his acting career.
Flores continued his acting studies in New York City at The American Academy of Dramatic Arts and at The Centre for Actors Study in Toronto. He also studied movement and dance at Richard Sugarman Ballet, Hart House Ballet and the Studio Dance Theatre in Toronto.
Flores has enjoyed leading roles in a number of television productions, including FX: The Series and Kung Fu, and the ATLANTIS FILMS TV Movies TekWar, TekJustice and TekLords. He has guest starred on such series as ATLANTIS' The Adventures of Sinbad, Lonesome Dove, Forever Knight, E.N.G., Street Legal and Night Heat.
Flores has also appeared in feature films, most notably in the critically acclaimed I Love a
Man in Uniform and Eclipse.
# # #

# # #
For the lastest information go to